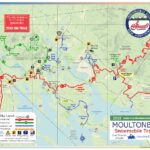 Permission is hereby granted to the Moultonborough Snowmobile Club (MSC) to establish and maintain a snowmobile trail across my property. It is understood, that use of my property is for snowmobile access and trail maintenance only.  I also understand that I am not liable or responsible for accidents which may occur as a result of others using my property, as provided for as provided for in Chapter 212, Section 34, Laws of the State of New Hampshire (RSA 212:34 Duty of Care).
The locations open for snowmobile use will be reviewed and approved by me.
There is no fee for the use of this property.   The Moultonborough Snowmobile Club agrees to mark, sign and maintain the trail through the property in a proper and safe manner for use during the snowmobile season.  Trail maintenance typically occurs in the fall.  The snowmobile season runs between December 15 through March, weather permitting.
This agreement shall be indefinite, and can be terminated by either party.