Thank you for joining or renewing your membership with the Moultonboro Snowmobile Club (MSC).  Your dues and donations are critical in the support of the club's trail operations.  An individual membership card entitles you to a $30 discount for each sled that you register.  Family Membership extends the discount to a partner and children under 18, all living at the same physical address. Registration agents require a drivers license to register a sled and cross-check with the  address printed on the voucher.
Snowmobile Clubs and Registration Agents can not sell you a club membership any more.  They are available ONLY through the NHSA web site.
Join online at the New Hampshire Snowmobile Association (NHSA) Web Site and your registration discount voucher is available immediately.  Your email is your username.  You can also donate to the club and we'll get 100% of the amount.   The fee to join our club is $35, with $10 going to NHSA and $25 to the club.
More Details:
When you first go to the NHSA membership site, you will enter your email.  This is the first year for this application, so nobody's email is registered from previous years.  You will have to enter your email and other personal information.
The first screen you see is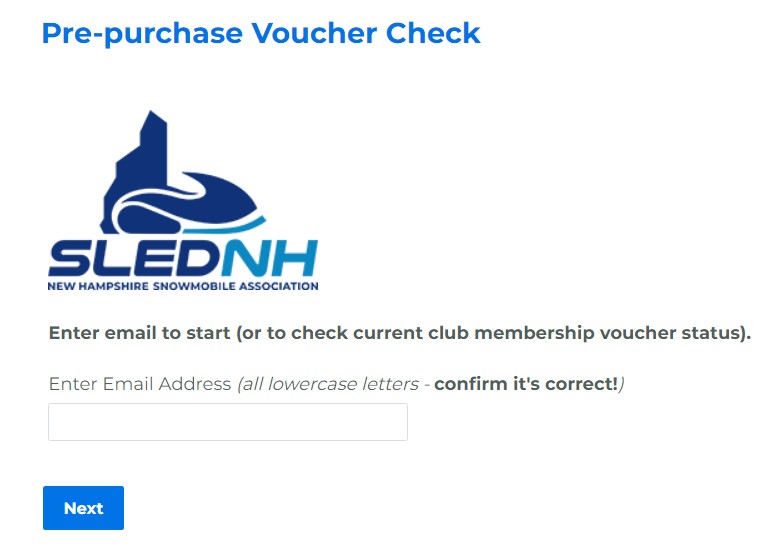 Enter your email and click next: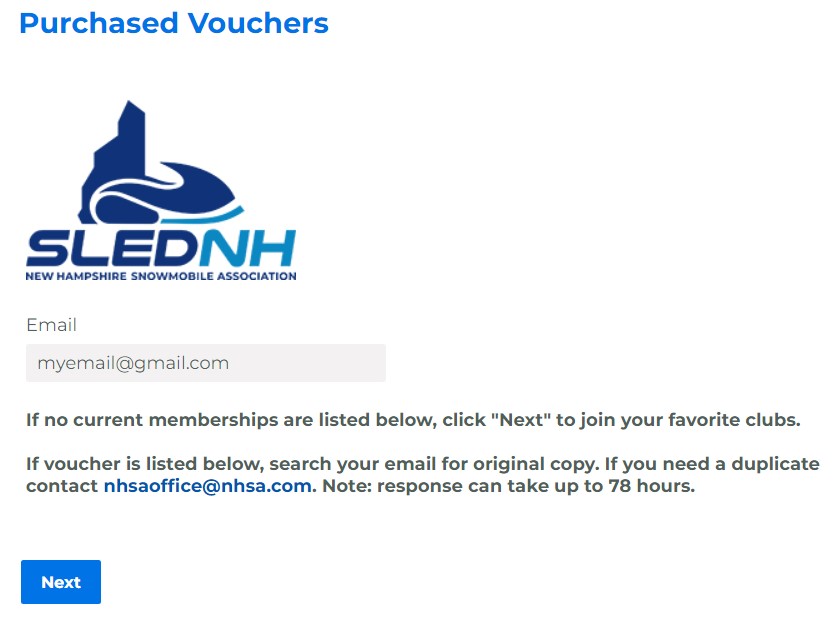 Next, select if you want an individual or family membership, add a donation to the club and join additional clubs.  You then enter your personal information and payment info.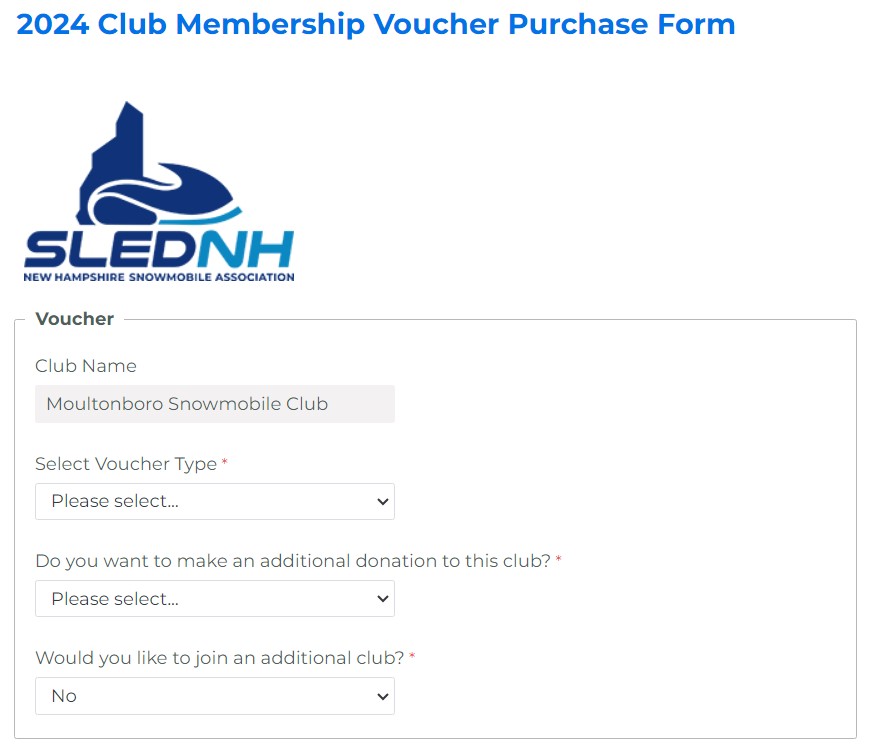 Only a club membership card issued by NHSA, in either paper or electronic form, is accepted for the club discount at snowmobile registration agents.
When joining via the NHSA web site, you choose a primary club and have the option to also join other club as a secondary member.   NHSA doesn't require additional $10 fees when adding additional clubs.
In past years, the club accepted memberships on this web site or via paper forms.  The NHSA discontinued support for this.  Also note, NHSA's new application doesn't permit you to reprint your membership card, so save the information when you join.  In the past, our club could resend your membership card, but NHSA has removed this feature.
Some people's email service puts the membership card from the NHSA into their spam folder, so if you can't find email from them, check your spam.
If you are having trouble registering or need to pay by check, email us at info@moultonborosmc.org  We'll figure it out.
Notes:
NHSA charges a $2 transaction fee to recover credit card fees.
The membership cost hasn't gone up for years.  It is $25  (individual or family membership) plus a $10 NHSA fee.  The card is valid for a $30 discount when you register your sled or household sleds if you have a family membership.
If you donate to the MSC through the NHSA web site or club web site, 100% of your donation goes to our club.  You can also donate and order maps and decals via the club's web site at https://moultonborosmc.org/order-form/
To save time, you are encouraged to join our club online PRIOR to visiting a registration agent.  To get the $30 club discount on your registration, print out your NHSA voucher, or use your smartphone to show a picture of the membership card to the agent.  Knowing your membership number alone is not enough.  You must show the card or electronic image.  You can join our club while at the agent by using your smartphone to enter the NHSA membership site and then show the membership card to the registration agent.  It normally only takes a few minutes and you will immediately have your membership card.   
2024 NH Snowmobile Registration Fees (Price increase over the 2023 season):
NH Resident – Club Member $121    /  Non-Club Member $151
Out-of-State – Club Member $131  /  Non-Club Member  $161
Other questions?  Please send an email to info@moultonborosmc.org
FAQ from NHSA
To receive a membership voucher you must have a personal email account.
Why email? The voucher is sent directly to your email, no one else can access it.
Can stores or clubs assist? They may BUT you still need an email to get a voucher number.
Will stores or clubs retrieve my voucher number? No, they cannot see it.
Credit card only? Yes, online payment requires a credit or debit card. PayPal is coming.
Get your voucher before you ride. You need email to access your voucher and that's not always possible in rural areas.
Tips for Your Club Members
New website is quick and easy
No password or codes needed
AOL and Hotmail often block NHSA email
Take a screenshot of your voucher and save in photos
Check spam or all-mail if you can't find voucher
Do not reuse a friend's email. Emails are associated with the original user's name and address
Need a free email? Try Proton Mail or Gmail
Voucher Retrieval: Enter email in portal and it will display the clubs you joined and the date, making it easy to search your email for voucher
SledNH
Over the coming months you will notice the New Hampshire Snowmobile Association is adopting the SledNH moniker. We aren't changing the organization's name, the New Hampshire Snowmobile Association (NHSA) will remain, as is.
The SledNH nickname is simply easier to remember and easier to pronounce than NHSA, which is a bit of a tongue twister.